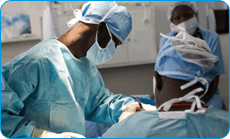 Malawi
A tiny landlocked country in southeast Africa, Malawi has a per capita income of only $690, categorizing it as a low-income country according to the World Bank. Although Malawi has a relatively stable multiparty democratic government, health systems and health care remain an ongoing challenge for the country's scattered rural population and its primarily agricultural economy.
According to the World Health Organization, there are 0.02 physicians and 0.59 nurses for every 1000 people in Malawi (compared to 2.7 physicians per 1000 people in the United States). And this country spends only $70 per person each year on healthcare (compared to $2,700 per person per year in the United Kingdom and $6,700 per person per year in the United States).
The good news is that there is a growing and improving orthopaedic surgical skill set in Malawi. The six orthopaedic surgeons available to care for the nation's population of 14 million work from the country's two primary hospitals, both of which are located in the capital of Blantyre.
Four orthopaedic surgeons are on staff at BEIT CURE International Hospital, a private hospital run by CURE, a Malawi-based non-governmental organization (NGO). In BEIT CURE's care model, the proceeds of paid adult procedures are used to underwrite the cost of surgeries for needy children. In 2008, CURE staff performed 183 private procedures at BEIT and 1,262 free surgeries for children, including fracture stabilization, deformity corrections, and cleaning out of bony infections.
There are two orthopaedic surgeons at Queen Elizabeth Central Hospital (currently the only teaching hospital in Malawi, offering undergraduate and postgraduate programs). These surgeons provide free orthopaedic surgical care to anyone who needs it, provided that they have the instruments and implants to do so. In addition, this hospital's surgeons also train Western European resident physicians and visiting fellows in the challenges of developing-world orthopaedic surgery. In addition, they show clinical officers how to provide basic, non-operative orthopaedic care.
In November 2009, Orthopaedic Link surgeons Drs Ananthakrishnan, Gosselin, and Katz will be traveling to Blantyre to complete an onsite assessment of BEIT CURE and Queen Elizabeth. During the assessment process, they will investigate both facilities' capabilities, and will operate side by side with Drs Jim Harrison, Jes Bates and Nyengo Mkandawire. They will bring donated equipment from Synthes to facilitate orthopaedic surgical care of extremity fractures at these two sites. Stay tuned to find out more as the trip approaches!
All cited statistics are the latest available from the World Health Organization.