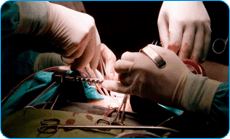 Corporate Alliances
... better is possible. It does not take genius. It takes diligence. It takes moral clarity. It takes ingenuity. And above all, it takes a willingness to try.

—Atul Gawande, surgeon and author
We are creating a consortium of socially responsible orthopaedic implant manufacturers to help solve a global challenge. Our goal is to find creative supply chain-based solutions to the problems of excess inventory, surplus and waste at the corporate, distributor and hospital levels. Once this surplus is categorized and inventoried, we can mobilize it for use in the developing world, assigning each corporate ally to a specific market sector and geographic region.
By helping companies assess, distribute and track usable idle orthopaedic devices, we create a continuous flow of consumable equipment such as plates and screws for surgeons in the developing world. Working with Orthopaedic Link can offer these companies a number of tangible benefits:
Cost savings as a result of goods used vs. goods discarded, and tax deductions for donations made.
Improved PR as your organization demonstrates its social responsibility and environmental commitment.
Time savings for your staff by minimizing the reverse logistics for your surplus implant devices.
We are currently working with industry leaders like: