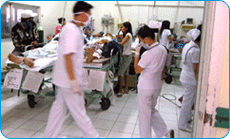 Our Process
We always hope for the easy fix: the one simple change that will erase a problem in a stroke. But few things in life work this way. Instead, success requires making a hundred small steps go right - one after the other, no slipups, no goofs, everyone pitching in.

—Atul Gawande, surgeon and author
So, what exactly does Orthopaedic Link do?
Our team of surgeons and supply chain professionals...
Assess equipment surplus at the corporate and distributor levels.
Identify sites and surgeons who need equipment, and conduct in-depth screening to determine what they can use.
Inventory equipment surplus using the Aidmatrix supply chain platform. (Recipient sites can also use the platform to request consumable equipment such as plates and screws.)
Match equipment surplus with an appropriate prescreened site or non-governmental organization (NGO) that can use the equipment.
Provide tax reporting and accounting of donated equipment to our corporate partners.
Deliver the donated equipment directly to the site or NGO.
Follow up with the official OL recipient surgeons to collect feedback about how the donated equipment is used.
Maintain records regarding the pattern of surgeries done and equipment used per site so we can assess and demonstrate our impact.
What makes our business model innovative?
We make the most of our partners' capabilities.

Industry Leaders: Foster cooperative alliances among orthopaedic device manufacturers to improve musculoskeletal health worldwide. To eliminate conflicts, each corporate partner is assigned to a specific market sector and global region.
NGOs: Work with leading NGOs to identify sites and surgical skill sets, facilitate customs clearance for our partners' valuable products, provide administrative help onsite, and liaise with local governmental bodies.
Academia: Solicit help from recognized and respected academic leaders who lend their expertise as advisors. All are thought leaders in the areas of business, logistics, orthopaedic surgery and technology.

We make effective use of surplus equipment: After carefully assessing and categorizing the vast quantity of idle, functional surplus, we strategically mobilize relevant portions for surgeons treating patients in low- and middle-income countries (LMICs).
We apply the principles of supply chain management: Our team has created a comprehensive method to inventory available donated orthopaedic equipment and implemented proven supply chain methodologies to provide tracking, tax reporting, and transparency.
We assess the skills and infrastructure of recipients: With our customized assessment tool, we can identify each site's particular skill sets and their ability to use the requested equipment before linking them with specific devices. We then continue our evaluation for the length of the intervention, measuring our impact on patients treated, surgeons trained, and on the local and global environment.
We develop reliable market analyses: During and after our intervention, we assess the local and regional markets for our corporate partners (types of patients seen, types of surgeries done, cost of interventions, health insurance markets, etc) so they can ascertain how more effective organization and distribution could improve their bottom-line operations.