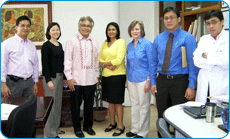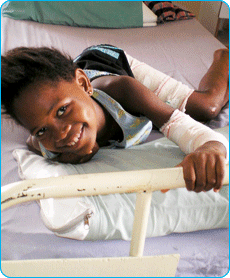 Recipient Surgeons
Philippines
At our first OL-approved site in Davao City, Philippines, there are two OL recipient surgeons:
Dr Gilbert Cauilan is an active consultant in orthopaedic spinal surgery and orthopaedic trauma surgery. He attended Davao Medical School Foundation before completing a residency in Orthopedic Surgery at the Philippine Orthopedic Center. Gilbert also completed fellowships in spine surgery at Canada's Orthopedic and Arthritic Institute, as well as the Royal Adelaide Hospital and Holy Spirit Hospital in Australia. He is a SIGN-registered surgeon, and he has the distinction of being the first clinician to perform surgery with Orthopaedic Link equipment.
Dr Ronald Tangente is the Chairman of the Department of Orthopaedics at Davao Medical Center, and has an active orthopaedic spine surgery practice. Ronald completed his residency at the University of the Philippines-Philippine General Hospital before moving to Sunnybrook Health Sciences Center at the University of Toronto for fellowships in spine and trauma surgery. In addition, Ronald trained in spine surgery at the Spinal Injuries Center in Fukuoka, Japan before returning to his native Philippines.
Together, Dr Cauilan and Dr Tangente are currently using OL equipment to provide comprehensive orthopaedic spinal surgical care to disenfranchised patients in the Philippines.
Malawi
In November 2009, Orthopaedic Link surgeons Drs Ananthakrishnan, Gosselin, and Katz will travel to Blantyre to complete an onsite assessment of Queen Elizabeth Central Hospital and BEIT CURE International Hospital.
During the assessment process, they will investigate both facilities' capabilities, and will operate side by side with Dr Jim Harrison (BEIT CURE), and Drs Jes Bates and Nyengo Mkandawire (Queen Elizabeth) to facilitate orthopaedic surgical care of extremity fractures at these two sites:
Dr Jim Harrison is the Medical Director of BEIT CURE, which he co-founded with Dr Christopher Lavy. Jim was raised and educated in the UK, earning a Master of Arts from Oxford University, as well as a Bachelor of Medicine and a Bachelor of Chemistry from Newcastle University. In addition, Jim is a Fellow of the College of Surgeons of East, Central and Southern Africa, and a Fellow of the Royal College of Surgeons in Trauma and Orthopaedics. With several publishing credits to his name (five at last count, addressing both HIV and orthopaedics), Jim's greatest achievement to-date is his co-founding of BEIT CURE. This career tropical orthopaedic surgeon has made it his life's work to provide orthopaedic care to Malawi's neediest patients, and he dreams that one day there will be even more high-quality, highly motivated orthopaedic care providers and facilities across East and Central Africa.
Dr Jes Bates, an orthopaedic surgeon at Queen Elizabeth, is also a native of the UK where he earned degrees in Aerospace Engineering, medicine and surgery from Bristol University. He is a Fellow of the Royal College of Surgeons of Edinburgh, and a Fellow of the College of Surgeons of East, Central and Southern Africa in Orthopaedics. Answering the call he felt as a Christian, Jes moved with his family to KwaZulu Natal, South Africa to complete his orthopaedics training before landing in Blantyre. While it wasn't an easy choice to live far from family, friends and a conventional career in the UK, Jes is gratified by the role he can play in providing specialized health care to residents of Malawi. In his spare time, Jes sails a 16' Scruffie dayboat (that he built himself) on Lake Malawi.
If you would like to request products from our corporate partners for your patients, please complete our Recipient Checklist application and email the completed application (pdf format) to us at info@orthopaediclink.org.