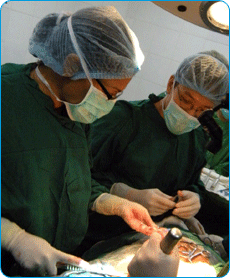 Surgeons
A human being is born into this world fully equipped not only to take care of him or herself, but also to contribute to enlarging the well-being of the world as a whole.

—Muhammad Yunus, Nobel Peace Prize winner
One of the strengths behind Orthopaedic Link is the talented team of orthopaedic surgeons who are intimately involved with all aspects of our organization.
Led by a team that includes Drs Dheera Ananthakrishnan and Jim Kercher, these skilled practitioners use their knowledge and expertise to assess both surplus at the corporate and distributor levels, and the surgical capabilities on the recipient side.
Our consultant team and advisory board are replete with global leaders in orthopaedics, including:
Dr Lew Zirkle, the founder of SIGN, who has been instrumental in helping us link with recipient sites and surgeons. Some of these surgeons currently use equipment that Dr Zirkle designed specifically for the developing world because it can be used to fix fractures without costly x-rays or even electricity.
Dr Richard Gosselin, who has worked as an orthopaedic surgeon in the developing world for more than a decade under the auspices of such organizations as Medecins Sans Frontieres and the World Health Organization.
Dr Christopher Lavy, who is the founder of BEIT CURE International Hospital in Malawi and former chair of the UK branch of World Orthopaedic Concern (WOC). Dr Lavy has offered support and guidance based on his extensive experience in Africa.
We are proud of our thorough process for selecting recipient surgeons, and are gratified to work with a number of highly skilled and dedicated professionals in our current target countries.