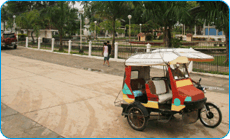 Global Impact
Healing is a matter of time, but it is sometimes also a matter of opportunity.

—Hippocrates
The United Nations and the World Health Organization (WHO) have named 2000-2010 the Bone and Joint Decade. According to the WHO:
Joint diseases, rheumatoid arthritis and osteoarthritis, osteoporosis, spinal disorders, low back pain, and severe trauma are among 150 musculoskeletal conditions affecting millions of people globally.
Musculoskeletal disease is becoming more common in low- and middle-income countries (LMICs). In particular, the incidence of traumatic injuries has hit LMICs especially hard: approximately 1/3 of the world's vehicles are used in LMICs, and these vehicles account for 90% of the world's death and disability due to injury.
Each year, traumatic injuries are responsible for 5 million deaths — more than HIV/AIDS, tuberculosis, and malaria combined.
Even non-traumatic musculoskeletal disease is significantly higher in LMICs: disability from hip and knee arthritis is two to three times higher in LMICs than in high-income areas such as the US and Europe. The reasons for this large disease burden are complex, as are the solutions.
In the developed world, such solutions often involve surgical intervention. Although Paul Farmer has referred to surgery as "the neglected stepchild of global public health," we know that there are qualified sites in LMICs that can provide safe and effective surgery. These sites have:
Environment: reliable civil infrastructure (electricity, water, roads).
Facilities: stable hospital infrastructure (building amenities, operating theaters, emergency units, wards).
People: skilled human resources (surgeons, anesthetists, nurses, therapists).
Equipment and Supplies: regular deliveries of tools, machines and supplies (anesthesia and x-ray equipment, surgical instruments and implants).
More About the People...
Human resources in low- and middle-income countries (LMICs) are still scarce:
Over a recent 12-year period, 50% of medical students emigrated from Ghana.
Approximately 23,000 health care workers leave Africa every year.
These bright young people leave their homelands for a number of reasons: an inability to make enough money, poor working conditions, inadequate resources, adverse politics — even possible persecution.
What does this emigration mean for the people left behind? A shockingly low ratio of physicians left to serve some of the world's poorest populations. In some LMICs, the ratio of physicians available to treat patients is as low as <1.00:1000. (By comparison, the US ratio is currently 2.7:1000.)
In light of such a desperate situation, what's the good news? Incredibly, pioneering nongovernmental organizations (NGOs) such as SIGN and Orthopaedics Overseas have identified an existing orthopaedic surgical skill set in several LMICs:
23 orthopaedic surgeons in Uganda.
93 in Nepal.
9 in Malawi.
20 in Sri Lanka.
524 in Serbia.
The talent and human resources are available, but these surgeons still lack the necessary tools to provide orthopaedic surgical care and effect real change in the lives of their patients. As a result, patients suffer from a lack of intervention and, just as importantly, surgical skill sets decline — imperiling future generations of patients.
More About the Equipment and Supplies...
Even in those regions that have the environment, facilities, and people, a lack of capital equipment and implants can severely limit the provision of orthopaedic care. This lack contributes to a population suffering from many physical disabilities, as well as health care workers who suffer from deficiencies in their training.
Orthopaedic Link is dedicated to providing that needed orthopaedic equipment, matching approved recipient sites with the specific equipment they need for their patients.
In addition, we've developed a screening tool that assesses the capabilities of potential recipient sites in the developing world, ensuring that those sites can also provide environment, facilities and personnel needed for safe and effective surgeries. Key criteria for recipients include:
A politically stable country.
An existing hospital infrastructure.
An existing orthopaedic skill set.
An existing relationship with other NGOs.
Resident and nursing training programs.
A government institution that provides care to the indigent.
All cited statistics are the latest available from the World Health Organization.