Along with some residents, our friend Dr. Cauilan in Davao City in the Philippines successfully performed three surgeries independently after our training visit. We were also able to source the equipment needed to help these people who had suffered trauma. Thanks to generous support from Nuvasive, these patients will all have a positive outcome and will recover from their injuries. Let's meet them!
Gualberto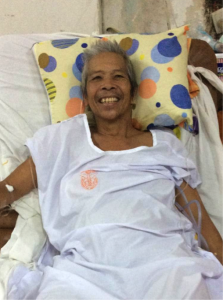 Gualberto is a 54 year-old man from Davao City. He is a carpenter who was repairing his own roof at home when he fell 15 feet and landed on his back, suffering fractures in T7 – T8 and a spinal cord injury. Gualberto earns the equivalent of $110-$130 U.S. dollars a month and his primary source of income is his work as a carpenter. If unable to work, his future would be very uncertain.
Here is his pre-op x-ray: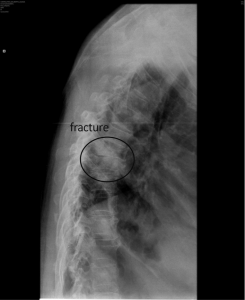 And his post-op x ray: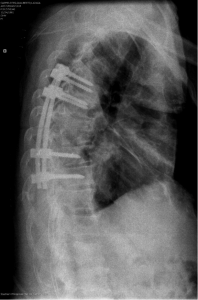 Colita
Colita is a 44 year-old woman from Davao City. She was riding on the back of a carabao (a kind of water buffalo) when she lost her balance and fell. She lives and works on her cousin's farm and gets her income from a share of their earnings. She makes approximately $79 U.S. dollars per month with no other source of income. When she fell, she suffered a fractured L-1 and an injury to her spinal cord. Colita is looking much more comfortable after her surgery.
Here is an x-ray Colita's spine before surgery: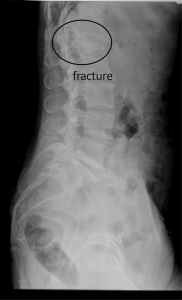 And here is her spine after surgery:
Raymond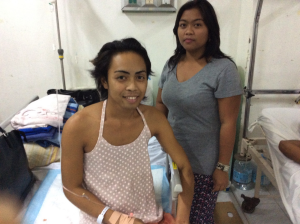 Raymond is a young man from Island Garden City of Samal. He was injured when he fell from the second floor of his boarding house. He suffered a fractured L-1 and a spinal cord injury. He is in his third year of college as an undergraduate and is currently unemployed. He receives an allowance that comes from the earnings of a small sari-sari store. After his surgery, Raymond will be able to resume his studies and look forward to a bright future.
Raymond's spine before surgery: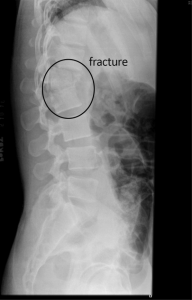 Here is his post-op x-ray: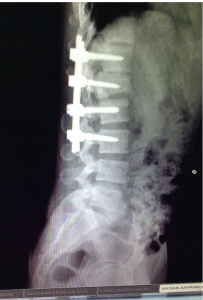 Thanks to so many dedicated people and the donation of very valuable equipment from Nuvasive, these three hard-working people will be able to go back to enjoying their active lives. Thank you, Nuvasive!