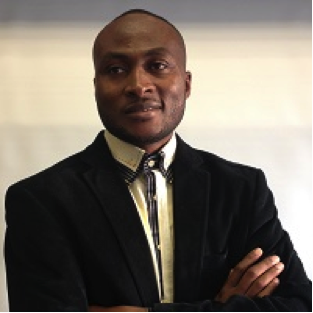 Pitchou Malaba was born and raised in the Democratic Republic of the Congo in Africa.  For the last twenty years, the country's underground minerals have brought relentless wars and refugee camps in war zone areas.  Almost 6 million people have been killed as a result of these conflicts, and Pitchou himself survived in a refugee camp for five years. As a result of his experiences in his younger life, Pitchou has found a perfect vocation as an Ambassador for NuVasive Spine Foundation.  We at Orthopaedic Link are fortunate to work with Pitchou often.
At work, Pitchou leads and manages the NSF direct mission trips. His duties include managing operational duties and surgeon relations for both direct and supported mission trips, and coordinating inventory for those trips. Dr. Ananthakrishnan had a chance to ask him a few questions about his fascinating and noble work.
Dr. Ananthakrishnan:
How often do you travel for work, where do you go and what do you do there?
Pitchou:
I travel to Africa six times a year and about ten times per year within the U.S. for NSF related duties.
Dr. Ananthakrishnan:
What are the biggest challenges you face in your profession?
Pitchou:
I love what I do. I am passionate about helping people in disadvantaged communities because I sympathize with people in those communities, having lived there myself for a good portion of my life. There is nothing I consider challenging in what I do. I count my blessings, instead.
Dr. Ananthakrishnan:
What do you find to be the most personally fulfilling aspect of your work?
Pitchou:
The fact that I'm at the front line helping patients with debilitating spine diseases and witnessing people getting a second and third chance at life during NuVasive Spine Foundation mission trips is one of the most rewarding aspects of my personal and professional lives. I'm lucky to be doing what I'm most passionate about—helping the less fortunate.
Dr. Ananthakrishnan:
What is your favorite story with regard to a patient and the outcome for that patient?
Pitchou:
I have so many favorite stories, but I'll pick one. In 2011, I landed in Nairobi with the group of surgeons for a medical mission focused on spine reconstruction. During clinic, a hundred people showed up with spine ailments and almost all of them were surgical candidates. There were no qualified spine surgeons in the region, let alone the funds to afford the types of surgeries these patients needed.
Fiona was one of the patients in the clinic room. She had lost the function of her lower extremities due to progressing scoliosis. Fiona was using her mother as a human crutch for six months before surgery, and she was lucky to make the final list of patients to be treated during the mission at Kenyatta National Hospital. After surgery, she was able to move her legs and stopped using her mother as a crutch. I'm always moved when I think about these stories.
Dr. Ananthakrishnan:
Thank you for letting us do this spotlight on you.  We feel fortunate to partner with NuVasive and appreciate your support over the years.